For the third time in a row, the Canyon Esports men's team has taken the win in the Zwift Racing League's Premier Division. After 8 weeks of racing, the final race of the third season arrived and the men had to win in order to be certain of securing the crown and maintaining their undefeated streak. Knowing this, the team devised the plan to hit out hard from the very beginning in order to be on the front foot. Over the first KOM, Ollie Jones took maximum points with Lionel Vujasin coming in 3rd. This headstart was something that the team were able to maintain and also gave us the luxury of not having to mark other riders trying to attack off of the front. From there on in, all we had to do was mark the team who were second in the league, and ensure we always outnumbered them both in riders on the road and points on the board. After an hour of racing, we reached the final ascent of Fox Hill. By this point everyone was suffering and there nothing in the tank to compete for the stage win. But that didn't matter, because the team had done enough to secure the victory they needed to take home another league title. Here's what Lionel & Ollie had to say:
Lionel Vujasin, Team Captain
The best defense is always offense. We've been in this position in the past and so this time wasn't any different. Ollie and I put the pressure on from the get-go while Antonie and Spencer secured our numerical advantage. It was the perfect scenario for us and I'm glad we were able to complete the ZRL HAT-TRICK!"
Ollie Jones, Team Rider
It was an interesting race, we knew going into it that there were only 5 riders we had to watch. It was vital to put the team in second place under pressure from the intermediate points, and with a 24 point advantage after the first intermediate, the race became a matter of patience. Spending that extra energy early on meant we were able to just observe other teams like Movistar attacking for the stage win and knowing that we could wait to see others responded. By the last climb, Lio and I were both pretty spent after some big efforts for the intermediate points, but we knew that by then we were basically in a mathematical certainty of winning the series, especially since we had Spencer and Tony having incredible rides in the group behind.
The riders have shown true professionalism in a season strewn with challenges, uncertainty and confusion. The victory was hard won, and whilst many issues that led up to this were outside of our control there are still things we can do to improve. We're all perfectionists in this camp and so we'll want to make sure that next time we give ourselves some more breathing space. Over the summer we will also try to work with other team managers and Zwift to try to address some of the issues that came up so that they can be avoided in the future. But right now, it's about R & R, and Aperol.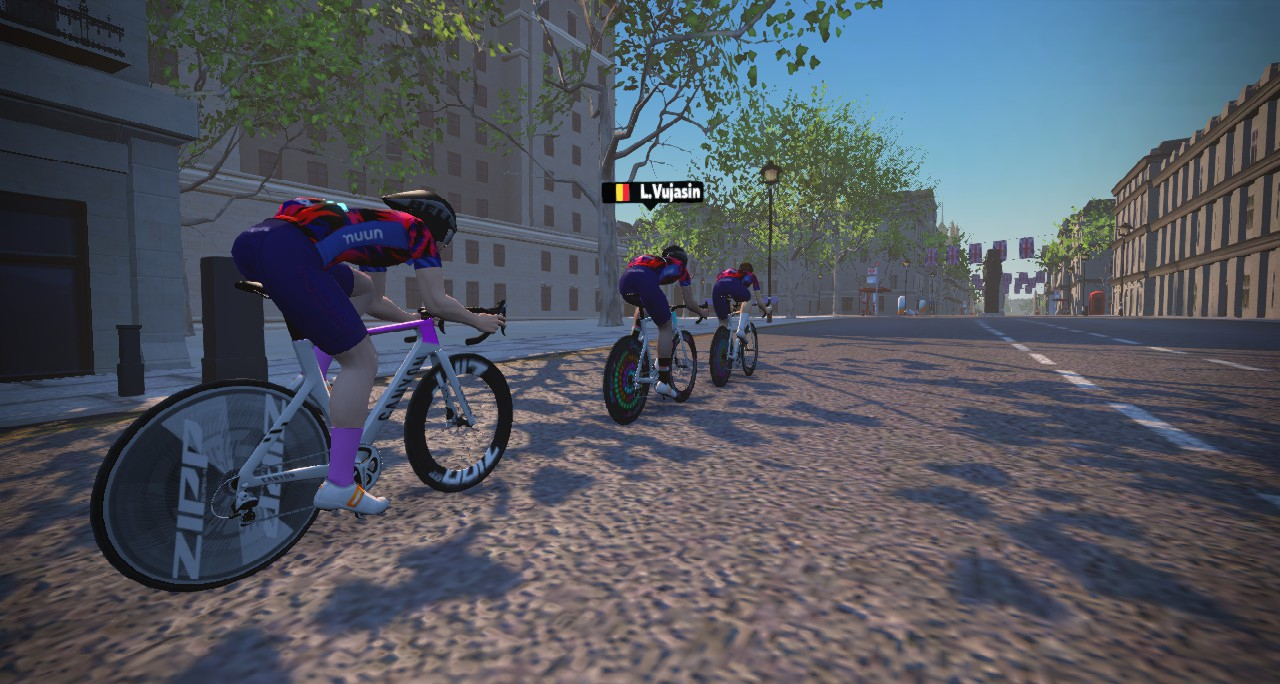 WOMEN'S DIVISION
Running alongside the men's division were the women. Our team had started the season in high hopes after finishing second in Season 2. It could not have started better with the team being awarded 1st place after race 1. But it was by no means plain sailing and the team had to adapt to the new scoring that placed greater emphasis on intermediate points. Despite many valiant efforts by the riders, it was not a lead that they were able to hold on to. The plan then, was to secure a podium spot, but with some many teams in contention it was never going to be an easy task. The final results left the team in 5th place, only one point off of another podium place. Here's what some of the riders had to say:
Kristin Falck, Team Captain
Season 3 has been really challenging. We've achieved some good results, made some mistakes, had some bad days, had some good days, and have admittedly struggled to adapt to the new game dynamics. But whether happy or disappointed after a race, every rider has been a dedicated teamplayer all along. We must thank our DS Rohan for giving us much appreciated guidance, and team-manager Rhys for his priceless support. We will learn from this season and gather inspiration from our best performances. We will return hungry and ready to fight for the win.
Cécile Lejeune, Team Rider
From a team standpoint, we approached this season with high expectations, wanting to do as well as the previous one. At some point or another, we all struggled with logistical issues, professional demands or health strains, which made reaching the top five all the more difficult. We still raced our hearts out, and learned a lot from it. We'll highly appreciate our summer rest, but we're all hungry for 'revenge' next time round. On a personal level, I got a few Top 10 finishes, which validated some hard training I put in during the winter. It's satisfying on a personal level, but also gratifying to see a good performance bring points to the team.
Also notable for this season was the addition of DS Rohan Kennedy who has supported the ladies throughout the season both in races, thursday timetrials and recons. Team Manager, Rhys Howell noted, "Having the additional support of Rohan has been invaluable this season and I've been truly impressed at his dedication to supporting the team". Here's what Rohan had to say as he looks back on his first full-season with the squad:
Rohan Kennedy, DS
I know how challenging this season has been for the squad, but I also know the amount of time, training and dedication that each and every rider but in behind-the-scenes. It has been an absolute pleasure working with the squad and whilst we didn't get the result we wanted, I know that will drive all of us to come back even stronger next time.
Despite a degree of dissapointment, the women's team can still look back on a sucessful 2021 to date with a 2nd place finish in Season 2 and 5th in Season 3. That places them as the third most successful eRacing team in the league out of sixteen teams. For certain, the ladies will want to continue to fight to maintain and improve on their position in the top flight of eracing. With such small margins, it will only involve an incremental improvement to do that.
WHAT'S NEXT?
Team Manager, Rhys Howell had this to say, "This season has been incredibly challenging for a plethora of reasons - from the change in racing dynamics, late starts, race cancellations and fluid results to name but a few. However, every single person in this team has been an absolute proffesional and never lost focus. I know we did not get the result we wanted with the women's squad, but in the end it was very close. I consider myself very lucky to be surrounded by such a great group of talented athletes. We're always evolving and I can't wait to see where we're at by the time you see us racing again as a team."
The team will now take a well-earned break over the summer period, ready to come back in the Autumn. Of course, you'll undoubtedly still see many of the riders still racing - but with the pressure dial turned considerably down. Good luck to all of them who will be racing on the road this summer - we wish you a healthy and successful calendar! Oh, and we might even take our jersey outside like Kerstin Pöhl below.
Lastly, whilst the eRacing might be taking a back seat, that doesn't mean that we won't be busy preparing for the new season. Stay tuned for more information on our new kit launch, new riders, events, as well as few surprises. If you would like to get involved, then head over to our community team and join in the fun.