On Sunday, we witnessed an event truly like no other – and something that surely would never have happened if it weren't for the current crisis. It was wonderful to be able to turn a negative situation into something wholly positive. Thank you to Alpecin-Fenix for being willing to take on the challenge of an eRacing competition, with little to no previous experience of racing on Zwift (a platform and format that takes time to master). This was a real gift to the eRacing community; as it allowed us to demonstrate to the world what cycling eSports is all about. Not only this, but it was also one of the most exciting races we've seen and that makes a huge difference!
Watch the race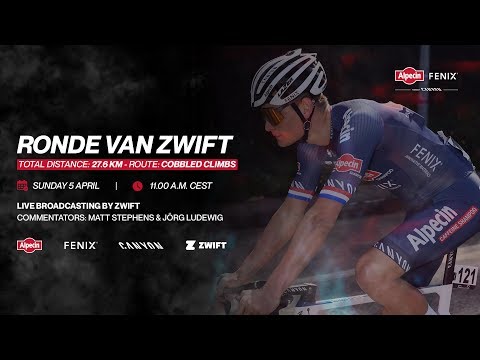 Click on the image above to watch the full replay
Unlike most Zwift-sanctioned races, this one was a little different. Alpecin-Fenix fielded a team of 18 riders and were up against 7 of the best Community teams; all made up of 7 riders instead of the usual 5. As our men's squad is made up of 6 riders, this meant that we had a spare spot to fill. Despite being a Canyon team, this doesn't usually mean we have a free pick of all the company's top athletes. Even if we did, who really has the nouse to take on an eRace – let alone win one? But the stars were aligned and with Oceanside 70.3 postponed, world-class triathlete Lionel Sanders was looking to pour his training and passion into something else.
Apart from being one of the best triathletes in the world, there are two things that make him stand out: 1. He is no stranger to eRacing and has live event experience from CVR World Cup in Las Vegas. 2. We knew he would take this race seriously and prepare for it just like any other (even if he only had a 48-hour window to do so!). Lastly, he is completely humble and brought no ego to the table whatsoever. Lionel didn't approach this race as a superstar – rather, as a teammate; it was amazing to be a part of. You can watch his preparation and race video on his YouTube channel. It offers a fascinating glimpse into how he experienced the build up and aftermath of the race.
We won't go into all the detail of the race; we'd encourage you to watch it if you haven't already. But in short: Lionel Sanders snatched victory by less than 2 seconds in a daring all-out breakway in the final lap; with Lionel Vujasin coming in 3rd, Ollie Jones in 4th and Alex West in 6th. Everything we discussed before and during the race went to plan and we were absolutely delighted with the result. It was a hard at the office for Alpecin-Fenix and Mathieu van der Poel was sadly dropped on the first ascent of 23rd Street – and it just goes to show that it isn't just pure watts that count in Zwift racing. We hope he'll continue to race on Zwift and hone his craft just like he has in every other cycling discipline he has turned his hand to.
Final leaderboard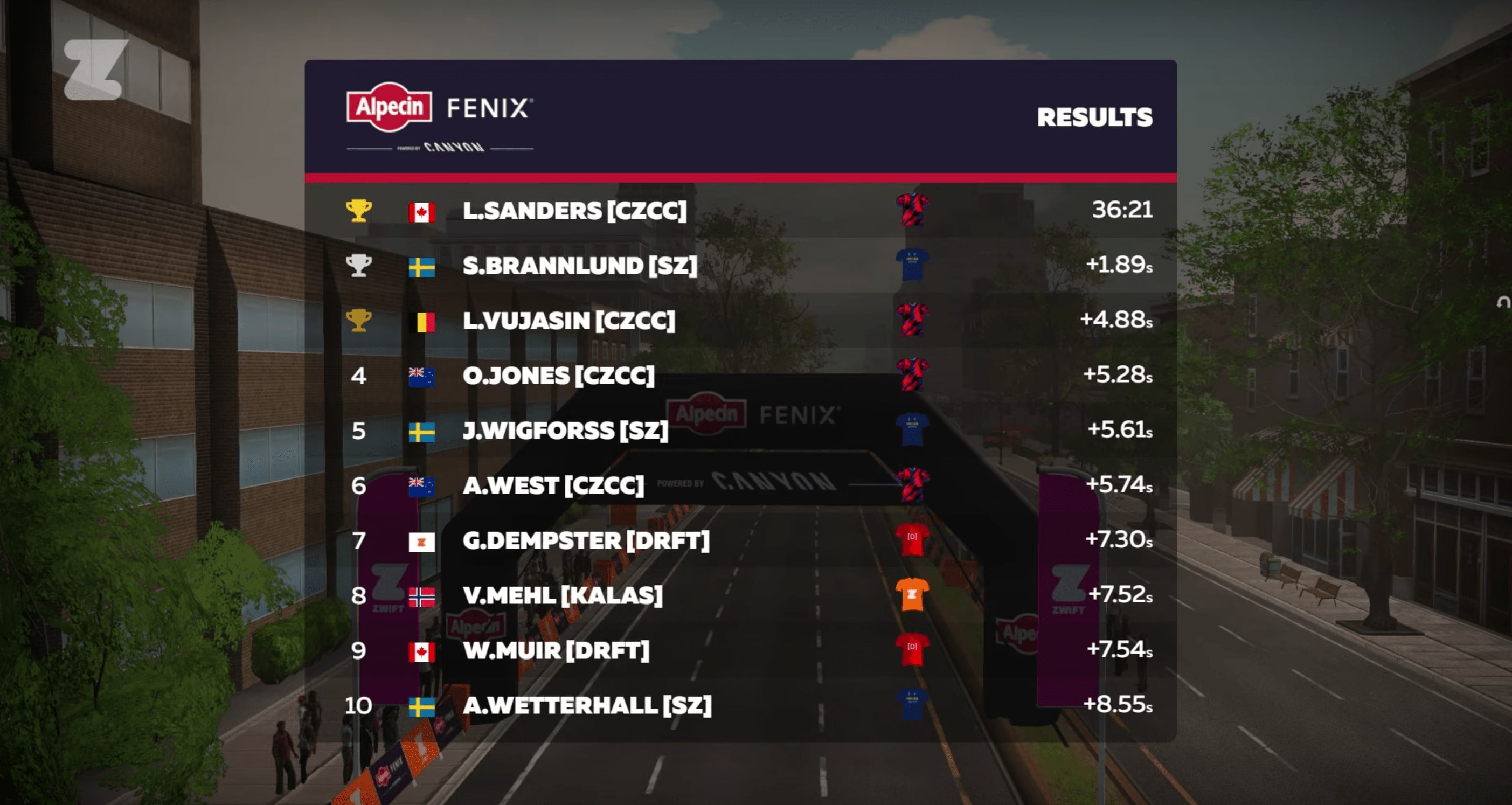 Was this a one-off for Lionel or will we see him back in Canyon ZCC colours again? You'll have to wait and see!